An Apple Picking Trip
new!
October 2020
Tatsuhiko TAKAI' Assistant Director' General Affairs Section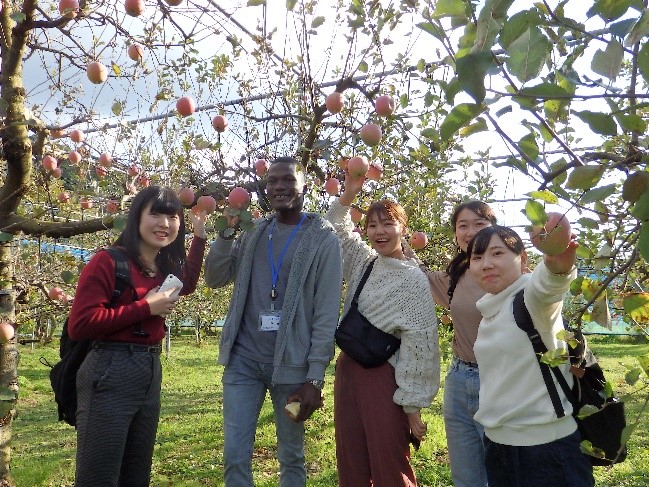 In the afternoon of November 9' 2019' we held an apple picking tour of Toyotacho in Shimonoseki for the participants in the gParticipatory Safe Water Management in Rural Areas in African Countries (B) h course.
This trip was planned by members of FIVA (*1) at The University of Kitakyushu.
We had never been apple picking before as part of our international friendship program' but the idea came up when the FIVA members did a survey of places that were popular with overseas visitors to Japan.
The plan was decided when we learned that early November is the Fuji apple season in Toyotacho.
We were blessed with good weather and the participants were in a relaxed holiday mood as we made our way there. They enjoyed chatting with the students and all joined in with a fun game of bingo.
There were no other visitors at the orchard in Toyotacho as we had made an advance reservation' so we were able to enjoy our visit without having to worry about getting in other peoplefs way.

There are no systems like this in the participantsf home countries' and they were delighted by the flavor of the apples they had picked themselves.

Apparently the orchard is rarely visited by large groups of foreigners and they gave us a really warm welcome. For example' they shared some homemade dried fruit with us as a special treat.

The participants and students engaged in lively conversations and we stayed for longer than we had originally planned.

Just as we were thinking that it really was time to go' the owner of the orchard invited us to some coffee or tea and the conversations continued to flow as we enjoyed our drinks.

We ended up leaving much later than we had scheduled.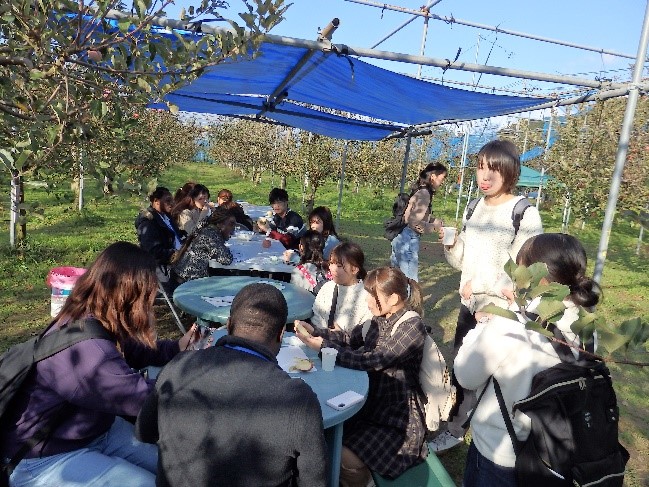 After eventually leaving the orchard' we headed off to the nearby Firefly Museum of Toyota Town and the local roadside station.
However' we only managed a quick look round the museum and a brief stop at the roadside station to take a group photo before heading back home.
Although the trip didnft go quite as scheduled' I think it was a day that the participants will always remember.
*1 FIVA
Fukuoka International Volunteer Association. An international exchange project at Regional Symbiosis Education Center' The University of Kitakyushu.
With gWalk' enjoy' learn. International exchanges in Kitakyushuhas its slogan' FIVA plans and runs events to familiarize overseas visitors with Kitakyushu via cultural exchanges that will teach them about Japanese culture and the history of Kitakyushu.