Overseas Business Expansion Support for a System to Manufacture Recycled Aggregate from Concrete Waste (Part 2)
new!
July 2021
Tomoharu ASAHARA' Director of the Technical Cooperation Division
Hiroshi EMOTO' Executive Technical Advisor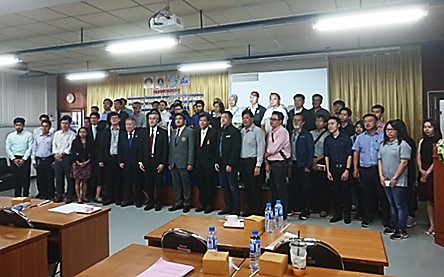 The first public seminar (January 2020)
In the period between November 2019 and January 2020' we carried out a second and a third field survey in Thailand; these were JICAfs Feasibility Surveys to support and formulate a business model for the overseas expansion of Japanese SMEs.
They mainly involved supporting the implementation of the following:
(1) the manufacture of recycled aggregate from concrete waste using the testing machine supplied by the proposed company' SAEZONE' Inc.'
(2) the confirmation of details with the university requested to evaluate the properties of concrete made using the recycled aggregate'
(3) the evaluation of the counterpart' who will play a key role in holding seminars and in popularizing and verifying the aggregate' and the gathering of information regarding the construction of verification facilities.

The main information we have gained so far is that (1) recycled aggregate made from Thai concrete waste is of a level that adequately satisfies JIS standards' and (2) there is no great difference in performance (age-related strength and durability) between concrete made with recycled aggregate and concrete made with natural aggregate.

Furthermore' (3) TIS standards for recycled aggregate were established in Thailand in February 2020' and conditions were put in place that make wider use of recycled aggregate feasible.

We had planned to hold seminars to announce these findings on our next field trip to Thailand' but bearing in mind that the impact of COVID-19 will make such trips difficult' we decided to adopt the following action plan going forward.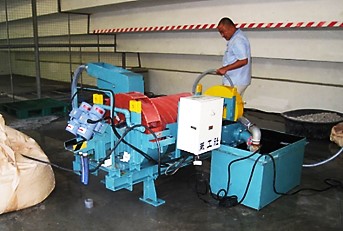 1. Deeming that the information gained from field surveys and data gathering up until now meets the bare minimum requirements of the business model formulation survey' we would finish this survey by holding an online seminar that announced our findings.
2. Based on the content of the surveys so far' we would start preparatory work towards the application for the next public offering of JICA's Verification Survey.
Based on that action plan' we held an online seminar on May 11' 2021 (the second public seminar) which was well received by the roughly 100 Thai nationals who participated.