yRemote TrainingzUrban management for sustainable urban development (A)
Online Remote Training Involves Difficulties Not Experienced with Courses in Japan
Nov.10 to Dec.3' 2021
Makoto YAMANE' Course leader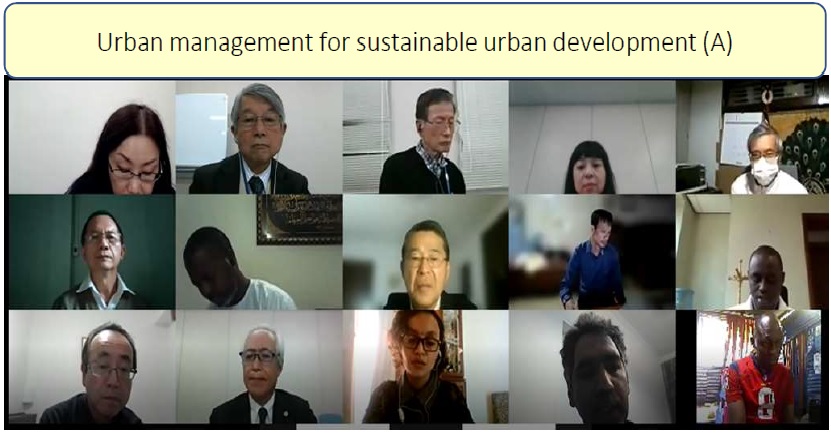 Group photo of participants via Zoom
Urban management for sustainable urban development (A) is a course for participants from Asia and Africa. It was held as a combination of on-demand private study using recorded video lectures and roughly two hours per day of live (face-to-face) lectures scheduled with due consideration for the time differences between the various countries. I had hoped that the live component in particular would enable training equivalent to that of a course taken in Japan. However' there were considerable difficulties involving the three issues listed below.
1. Unstable telecommunication environments
Telecommunications were unstable in Africa and South Asia' with problems such as the Zoom screen freezing or temporary power outages. As a result' face-to-face discussions could not be carried out satisfactorily. In some countries we endeavored to secure and prepare a suitable telecommunications environment by collaborating with local JICA staff to enable the use of hotels or offices with good telecommunications facilities. Even so' in regions where telecommunications are difficult' the only option was to transmit videos of the live lectures after they had finished.
2. Balancing a job and the training course
Most of the participants in the online remote training took the course from their workplace or home while still engaging in their usual work duties. The training schedule included lectures and writing reports connected with their training' and was very grueling for the participants. Questions from the participants mostly arrived on their days off at the weekend' and the content of the questions to the instructor' and the replies to the participants' needed to be translated. All this created a complex situation for the coordinator' who had to ensure appropriate communication between the parties concerned.
In addition to the general training sessions' we set up a platform for Zoom sessions that participants could utilize when drawing up their action plans or to communicate with one another' providing opportunities for them to participate and utilize it freely. Further venues for the participants to interact were provided via smartphone apps such as WhatsApp.
3. Participants who are not very good at English
There were some difficulties with regard to reports and exchanges of information with participants who were not very good at English. For example' we used translation software to provide notifications in languages that participants could understand better (Arabic and French)' communicating in those languages as well as English.

Despite the difficulties described above' the participants' lecturers and everyone else involved worked very hard to ensure that the training was enjoyable and effective' and the results of the training were highly rated at the end of the course. I am very grateful that we were able to hold the training course despite the difficult circumstances caused by the COVID-19 pandemic.