yRemote TrainingzPromotion of energy conservation in the industrial sector for Kazakhstan
Innovations Trialed with the Participants during One Month of Live Remote Training
Oct.4 to Nov.4' 2021
Isao OGATA' Course leader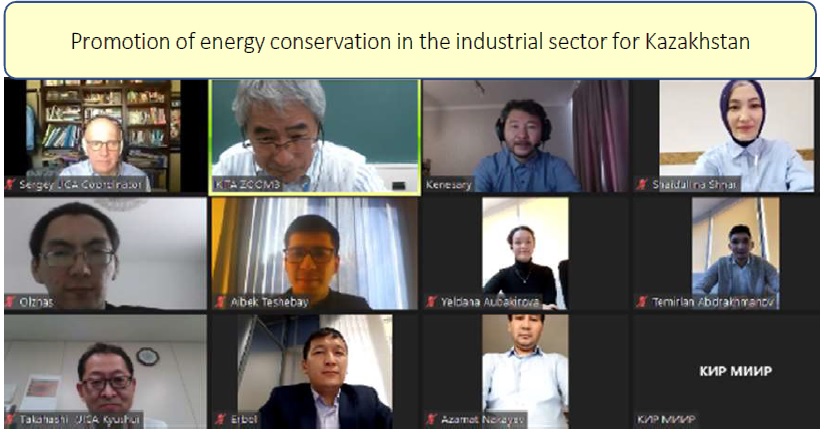 Group photo of participants via Zoom
The remote training course was held for nine participants in Kazakhstan (with an average age of 31) by a team of twelve that included a simultaneous interpreter in Kazakhstan' coordinator' officer' and the course leader. We tried out two new things during this training.
1. This was the first time that JICA Kyushu had tried using a simultaneous interpreter. On the assumption that Russian language interpretation would take a long time' simultaneous interpretation was adopted to shorten that process.
2. In order to take advantage of the benefits of remote training' the participantsf workplace managers were asked to attend the action plan presentations.
Regarding the above trial 1' unfortunately the simultaneous interpretation did not significantly shorten the time required for the lectures since there are many technical terms in the energy conservation field. Regarding the above trial 2' the presence of the workplace managers at the presentations helped the participants to focus' and we expect that the managers will continue to provide support going forward.

Overall' the participants took the lectures very seriously. They were particularly interested in inverter technologies' heat pump technologies' and the thorough enforcement of energy conservation controls. Apparently' they had reluctantly accepted that heat pumps could not be used in Kazakhstan' where the ambient temperature can reach minus 30 Celsius' and I was impressed by their interest when I told them that heat pumps can be used perfectly well in Japan thanks to measures adopted for cold climates and explained the measures taken to improve the facilities.
Originally no country-specific training was scheduled for Kazakhstan in FY2022 but' in response to their request' we are busily preparing to hold this course again this year.

I would like to finish by expressing my heartfelt gratitude to everyone at JICA involved with this course.